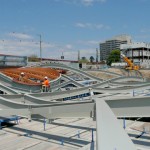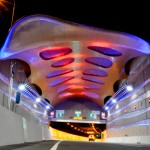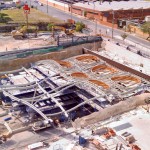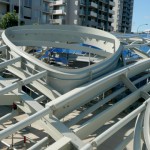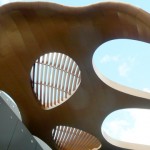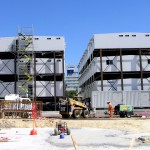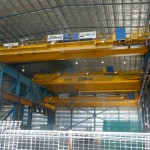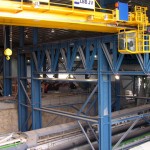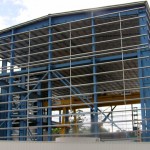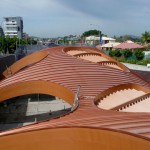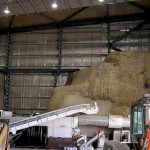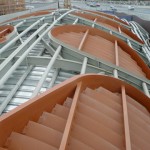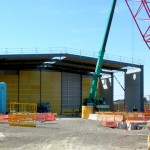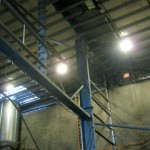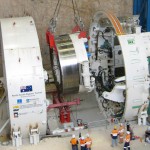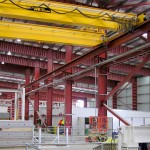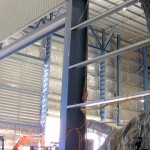 Feature:  Brisbane North-South Bypass Tunnel (see photos)
Design, documentation and construction approval for seven major temporary buildings. All buildings were part of the construction process for the tunnel as follows:
Building 1) Precast Manufacturing Plant at Eagle Farm Airport – 44m x 119m with 2 overhead cranes
Building 2) Shafston Avenue acoustic building at midway portal – 53m x 25m x 16.5m high
Building 3) Road Header acoustic building – 22m x 55m x 20m high. Located at the northern portal
Building 4) TBM (tunnel-boring-machine) acoustic building – 128m x 96m x 30m high. Located at northern portal site , this building features 40 tonne SWL cranes (3 off) and a 260 tonne SWL crane. Crane runways span up to 18.4m across the TBM machines)
Building 5) TBM workshop – Located at northern portal site, 58m x 76m workshop with crane
Building 6) 3-storey site offices (2 off) at the northern portal site
Building 7) Gibbon Street acoustic building – 64m x 52m x 17m high. Located near the southern portal, this building features a multi-stage erection and partial demolition to facilitate a tight site and to receive the second crane. The cranes are a 100 tonne SWL semi-portal and a 260 tonne SWL bridge crane
Entrance canopies at Shafston Avenue, Wooloongabba and Bowen Hills. Design, documentation and construction approval for the three wave-form canopies featuring louvred smoke and exhaust penetrations, custom fabricated curved beams, Kalzip tapered/pre-curved roof cladding and Alucobond ceiling cladding.